hempseed

(

hemp

-seed)

: noun

The seed of hemp. Hemp seeds are comparable to sunflower seeds, and may be used for food and milk, tea, and for baking, like sesame seeds. The hemp seed is actually a very tiny nut covered by a thin shell.

Hemp seeds are one of the world's richest sources of a complete protein (second only to soybean) comprising 23% of the seed composition and 34% dietary fiber. Whole hemp seeds contain a rich array of minerals, particularly phosphorous, potassium, magnesium, sulfur and calcium, along with modest amounts of iron and zinc. It is also a fair source of carotene, a "Vitamin A" precursor.

rosemary

(

rohz

-mair-ee)

: noun

An evergreen shrub, Rosmarinus officinalis, of the mint family, native to the Mediterranean region, having leathery, narrow leaves and pale-blue, bell-shaped flowers, used as a seasoning and in perfumery and medicine: a traditional symbol of remembrance.
Customer Testimonials:
Keeps my skin and body feeling great.
Phil Boca Raton FL 2007-06-20
This is the first bar soap product I have used in years. I even use it on my face and I am almost 50! The choices are fabulous and what a compelling story of making the soap. I love the fact that it does not contain animal products (except the goats milk) and I love that there is no waxy feeling. Thanks you so much and you have a customer for life.
Jane P. Orlando FL 2009-09-08


Our Products

Speciality Soap

Hempseed Rosemary - Speciality Soap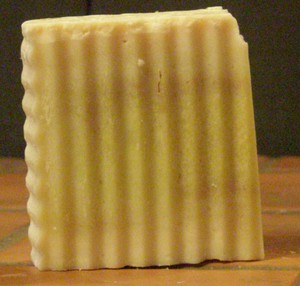 Hempseed Rosemary - Speciality Soap
Our Hemp seed bar is largely hemp seed oil, along with grape seed, cocoa butter, palm kernel and coconut oils, making for a very rich gentle lather. We have added Rosemary essential oil, giving you an all around clean and natural feeling after washing.
* One Quarter Moisturizing lotion
* Natural Glycerin
* Vegan Product
* Soy Free Product
* Green, Renewable Ingredients and Manufacturing
* Made in Pennsylvania, American Made
* No Petroleum based ingredients
Ingredients: Hemp Seed Oil, Distilled Water, Cocoa Seed Butter, Grape Seed Oil, Palm Kernel Oil, Sodium Hydroxide, Evening Primrose Oil, Rosemary Essential Oil, Jojoba Seed Oil, Rosemary Oil Extract (ROE), Sodium Lactate
| | | | | | |
| --- | --- | --- | --- | --- | --- |
| Bath Bar | 1 bar 7.00 oz | | | $10.95 | |
| Facial/Hand Bar | 1 bar 3.25 oz | | | $ 5.95 | Out of Stock |